Welcome to HOPKINS HEALTH & WELLNESS
LAKES AREA 218-568-5648
DMR Method Innovation at Hopkins Health & Wellness Center
The physical therapists, chiropractors at Hopkins Health & Wellness Center, along with the help of a team of medical radiologists, neurosurgeons and orthopedic spine specialists have developed the innovative non surgical DMR Method for the treatment of neck and back pain, disc herniation, sciatica, degenerative disc disease and other complicated conditions of the spine. The DMR Method of evaluation and treatment is also highly beneficial for non-spinal conditions including sports related injuries, joint pain and other musculoskeletal conditions. Watch the short video on the left to learn more about the ground-breaking DMR Method.
What Doctors are saying about the DMR Method
"The DMR Method produces consistent results and is an effective alternative to spine surgery. Even when a patient has previously had spinal surgery, the DMR Method helps stabilize the spine and prevent recurrence of symptoms and additional surgery."
-John Mullan, MD, Neurosurgical Associates, Ltd.
"We collaborate on many clinical cases using MRI scans before and after treatments to evaluate results, I'm constantly impressed by our patients' excellent outcomes."
-William Mullin, MD, spine radiologist at the Center for Diagnostic Imaging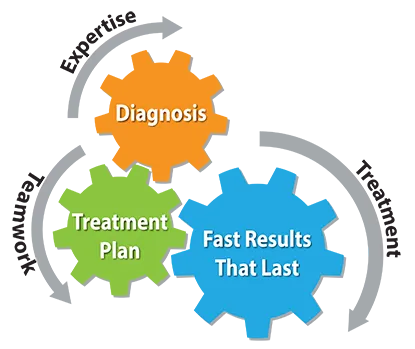 Working together to help you feel great again!
Our team of physical therapists, chiropractors, and manual therapists, along with the help of allied medical professionals will properly diagnose your condition, use teamwork to develop a complete treatment plan and collaborate to provide the right treatment in the right order to produce fast, lasting results.
---
HOPKINS HEALTH & WELLNESS LAKES AREA
31108 Government Drive, Pequot Lakes, MN 56472
218-568-5648